mentalism
College Mentalist / Magician
As a touring mentalist and a constant showcasing artist at NACA, APCA and COCA conferences, Spidey is taking the USA and Canada college circuit by storm! Whether it is for FROSH, Orientation, Winter Carnival, Spring Carnival, Homecoming, Graduation, Gala or simply to put on a show for the students; Spidey takes the students into his fun world of mind-reading with his hilarious awe-dropping revelations and impossible manifestations. Colleges throughout Canada and the US agree that Spidey's brand of hilarious and mind-bending mentalism show is refreshing the future of variety entertainment. The days of slow-moving and highly serious mind-readers are behind us. Spidey's accolades as a Canada's Got Talent Finalist, Hollywood consultant and appearance on Discovery Channel are all incredibly useful marketing content for campus coordinators. Not to mention, hundreds of thousands of students across North America have seen Spidey get out of speeding ticket and are eager to meet the man perform live! You will also find Spidey's promotional material comprehensive and useful! Spidey also provides campuses with his unique blend of close up magic throughout the day to encourage students to come to the show, a priceless marketing tool for guaranteed success. Spidey often travels to New York City, Los Angeles, Chicago, Washington, Boston, Las Vegas, Seattle, Toronto, Montreal, Vancouver, Calgary, Ottawa and more.
Corporate Mentalist / Magician
As one of the world's best-known creators of magic/mentalism, Spidey has invented some of the best-selling magic/mentalism products in the world. His creative mind is reflected in his stage show that has been gathering riveting reviews from all over the world. The demonstrations your audience will witness are extremely unique and unlike anything else you will ever see. From elaborate demonstrations of psychological profiling to reading their minds to demonstrating the limitless power of their imagination, your guests will not believe what they are seeing. Spidey treats every event like his own and custom makes his performance to suit your requests including industry specific magic/mentalism demonstrations designed explicitly for your audience. His team of agents and managers are extremely reliable and always available to answer all questions. Spidey's mentalism/magic shows have been vastly popular amongst corporate clients and event planners. Short list of clients includes Cirque du Soleil, Panasonic, L'Oreal, Chrysler and more. Spidey often travels to New York City, Los Angeles, Chicago, Washington, Boston, Las Vegas, Seattle, Toronto, Montreal, Vancouver, Calgary, Ottawa and more.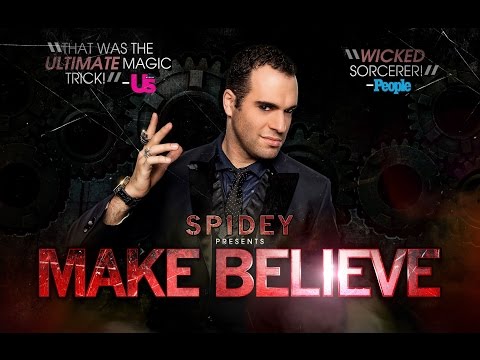 MAKE BELIEVE - Magic of your Mind (Performing Arts Theatres)
Spidey brings a mind-blowing and hilarious magical performance. He'll freak you out with his eerie mental demonstrations bordering on the supernatural! This is not your typical mind-numbing magic act. You will see and feel things you never thought possible and will want to tell everyone you know. Spidey will connect with the minds and emotions of the audience with many of his unique and exciting demonstrations. Spidey will specifically tap into someone's fondest memories and predict their all-time favourite gift and reveal the name of the person who gave it to them. His magical antique slates will play a game of Pictionary and reveal the very image the audience was thinking. Spidey will play a heart-racing game of Russian roulette using a 6-inch nail. Spidey's antique bell will be the first to capture everyone's amazement as it rings on its own! It's a performance filled with laughs, awe and pushing the boundaries of the believable. Spidey often travels to New York City, Los Angeles, Chicago, Washington, Boston, Las Vegas, Seattle, Toronto, Montreal, Vancouver, Calgary, Ottawa and more.
Speaker – Illusion and Deception
Spidey, has unique deception and illusion seminar that combines the entertainment factor of an international magician and the creative approach of a lateral thinker. Corporations are increasingly incorporating edutainment into their annual general meetings, conferences and meetings. Spidey admits he will be deceptive throughout the entire presentation and challenges your guests to decipher reality from illusion. He demonstrates some of the most amazing concepts integrated by elite magicians and illusionists and how they are applied in real life. Spidey provides valuable insight into determining fact from fiction and expanding the mind to explore exponential possibilities. Everyday employee tasks and duties often constrict the mind and limit the out-of-the-box thought process. Spidey will allow that creativity and imagination to surface such that its applications are productive for your business. Spidey often travels to New York City, Los Angeles, Chicago, Washington, Boston, Las Vegas, Seattle, Toronto, Montreal, Vancouver, Calgary, Ottawa and more.
Do you know?
The big debate between mentalists is Supernatural vs. Non-Supernatural. Many mentalists believe in telling their audiences that they possess supernatural abilities, others (like Spidey) believe that this is unethical and choose to make it very clear that there is no supernatural phenomenon.
Mentalism deals with 4 major domains:
1) Telepathy: to read another person's thoughts
2) Clairvoyance: to see things outside the realm of anyone's knowledge
3) Predictions: to know something is going to happen before it does
4) Telekinesis: to move or morph objects with ones thoughts
Mentalism as an art has become quite mainstream over the last decade finding itself on the big screen in movies such as "now you see me" and "the great buck howard" to television series such as "The mentalist".
Mentalism uses a mix of: psychology, verbal communication, non-verbal communication and magic to accomplish incredible demonstrations that deal with our inner most thoughts
Mentalists (such as Spidey) have also been used to work for companies as regular employees, but secretly use psychological techniques to push the companies name into customer's minds.